US Senate race in Virginia shaping up as national battleground
In Virginia's US Senate race, Democrat Tim Kaine isn't Barack Obama, and Republican George Allen isn't Mitt Romney or the House GOP leadership. But you wouldn't know it from the special-interest ads pouring into this key battleground state.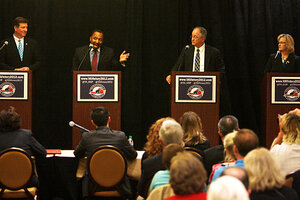 Stephanie Klein-Davis/The Roanoke Times/AP
Republicans think Virginia Senate contender Tim Kaine has got an Obama problem.
"Reckless spending, red ink, higher taxes – [Mr. Kaine and President Obama] have a lot in common," intones ads created by Republican super group Crossroads GPS. Kaine's likely foe, former US senator and former Virginia governor George Allen (R), has put up billboards calling Kaine "Obama's Senator. Not Virginia's."
The Kaine campaign's response? In short: Bring it on.
"It's time we reject this type of divisive politics," says Kaine, a former Virginia governor himself, in a fundraising e-mail. "If you want a Senator who'll partner with the President to do what's best for the nation, I'm your guy."
In Virginia in 2012, presidential politics is perhaps more tightly coupled to senatorial politics than anywhere else in the nation.
The race for the White House always affects contests lower on the ticket. But the Senate contest in Virginia is going to be a battle where presidential questions – What is the legacy of "Obamacare"? Who can cut the federal budget, and where? Will the Republican candidate be conservative enough for the party's restive base? – will not just weigh heavy on the debate: They very well may be the debate, leaving both Mr. Allen and Kaine in the wake of presidential forces far beyond their control.
---