In Richard Lugar defeat, a tea party road map for revamping Washington?
Six-term Sen. Richard Lugar (R) of Indiana lost by a landslide to a tea party-backed challenger in Tuesday's GOP primary. The outcome buoys the tea party movement nationally, but some say Lugar's problems were unique to him.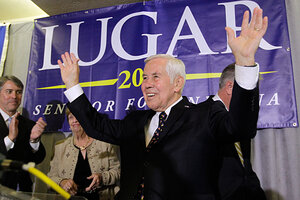 Darron Cummings/AP
The landslide defeat of veteran Sen. Dick Lugar of Indiana by Richard Mourdock, a Harley-riding, tea party hardliner, in Tuesday's Republican primary is convincing evidence that the tea party movement is alive and kicking – and is perhaps, too, a direct repudiation by GOP voters of "establishment" politics.
Of course, Mr. Mourdock's come-from-far-behind victory is in part a tale about Senator Lugar, a six-term veteran so comfortable in his role as a revered and mostly unchallenged senior statesman that he neglected to maintain a residence in his home state.
But the senator's ouster, by 20 percentage points, at the hands of a two-term state treasurer is also a barometer of the dour national mood. And that mood is embodied, at least in part, by the three-year-old tea party movement, which has largely abandoned its street protests and become, as Indiana tea party activist Anna Kroyman suggests, "a stealth movement."
Mourdock's win is likely to energize the populist antitax movement, which some political observers had deemed to be in decline after the 2010 elections. Lately, its aim has been to put pressure on establishment Republicans in Washington to rein in deficit spending in Washington and not to give ground on that front to Democrats.
---