Why Richard Lugar defeat scares tea party Republicans, too
House freshmen elected with tea party support see a warning in Sen. Richard Lugar's heavy defeat. If they don't start making progress on the tea party agenda, voters will throw them out.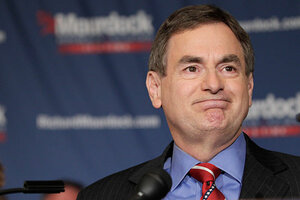 AJ Mast/AP
The defeat of Sen. Richard Lugar (R) of Indiana in Tuesday's primary echoed into the lower chamber of Congress, where House Republicans tied to the tea party saw it as a warning shot aimed not only against the establishment, but against themselves.
The message: They need to raise the tea party standard even higher or face voters' wrath.
Rep. Tim Huelskamp (R) of Kansas, a freshman lawmaker elected with significant tea party backing, said "the toughest question" he's asked in town halls always is: What difference have you made, Congressman Huelskamp? "Well, we can say we changed the debate, but they're looking for results, they're looking for solutions, they're looking for actual budget cuts, and it hasn't happened yet," he says.
"If we don't deliver shortly, they're going to be asking for a new crop of folks up here – I really believe that," he added at a Capitol Hill press conference.
Yet Senator Lugar – a moderate often willing to compromise with Democrats – suggested in a farewell letter that it is precisely the tea party's attitude to governing that prevents anything from being done in Congress. Taking aim at winner Richard Mourdock's belief that there's already too much compromise in Washington, he wrote: "He will find that unless he modifies his approach, he will achieve little as a legislator."
---