Why Sarah Palin's pick could triumph in Nebraska's US Senate race in fall
Tuesday's victory by Deb Fischer, who had the endorsement of Sarah Palin in the Nebraska GOP Senate primary, is an upset. But Fischer may in fact be the strongest Republican to run against Democrat Bob Kerrey, analysts say.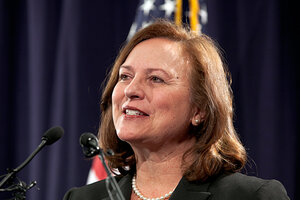 Nati Harnik/AP
Deb Fischer, a little-known and relatively unfunded candidate for US Senate, pulled off an upset in the Nebraska GOP primary Tuesday, and will face Democrat Bob Kerrey in November. She beat Nebraska Attorney General Jon Bruning, the favorite to win, 41 percent to Mr. Bruning's 36 percent. State Treasurer Don Stenberg got 19 percent of the vote.
It's the second time this month – following last week's toppling of Sen. Richard Lugar (R) of Indiana by challenger Richard Mourdock – that an insurgent defeated a more "establishment" candidate in a key Republican Senate primary.
While the temptation is to declare it another victory for the tea party – and possibly for Democrats looking to the general election – it's not that simple.
Yes, Ms. Fischer, a Nebraska rancher who has served in the state legislature since 2004, received the endorsement of Sarah and Todd Palin. But she wasn't the tea party pick; she wasn't even more conservative than her opponents.
---