Brown calls on Harvard to 'correct record' on Elizabeth Warren's heritage
Sen. Scott Brown wants to know why Harvard listed his rival, Elizabeth Warren, as a native American professor. The issue has not tipped the race yet, but it could, the Brown camp says.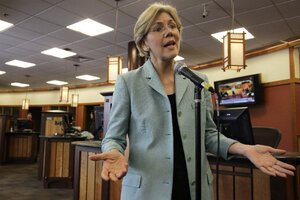 Steven Senne/AP/File
Sen. Scott Brown (R) of Massachusetts said Friday that Harvard Law School should "correct the record" regarding its past listing of Elizabeth Warren, his Senate-race rival, as a minority faculty member.
The issue has emerged as a controversy in recent weeks in what is shaping up to be the nation's top Senate race, as it became known that Ms. Warren had in the past classified herself as native American, based on a self-avowed ancestral connection, although she claims no current affiliation with an Indian community.
"The Boston Globe today has a story that states that Harvard may have violated federal guidelines in the reporting of diversity information because of what Elizabeth Warren told them," Senator Brown said in a statement released by his campaign. "I call on Harvard President Faust to immediately correct the record with the relevant federal agencies and uphold Harvard's 400-year-old tradition of abiding by the truth."
The freshman senator's nudge to Harvard comes after his campaign has also issued calls for Warren herself to "come clean" on the matter.
So far, important details on the issue remain murky, in part because Warren has not asked her employers (at Harvard and, before that, at the University of Pennsylvania) to release personnel records related to her hiring. Here are some things that are known: She placed herself on a list of "minority" law professors in a national directory of law schools during the 1980s and early '90s, and Harvard claimed she was a native American faculty member, but by the late 1990s she had dropped her name from the directory's minority listing.
---