Stakes high for GOP as Wisconsin voters settle on a Senate matchup
Wisconsin has an open US Senate seat, and Republicans hope to pick it off on their way to a takeover of the upper chamber. Voters decide Tuesday which of four candidates will carry the GOP banner into the fall election.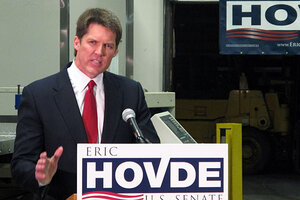 Scott Bauer/AP
In Tuesday's Wisconsin primary, voters will decide which Republican candidate gets the rare opportunity to vie for a US Senate seat that is newly up for grabs. The choice is significant because Republican party leaders see this as a possible pick-up seat in their bid to take control of the Senate from the Democrats.
After Democratic Sen. Herb Kohl announced his retirement, his party nominated US Rep. Tammy Baldwin as his replacement on the ticket. In November, she will face the winner of the GOP's four-man primary, which includes former Wisconsin Gov. Tommy Thompson, Wisconsin Assembly Speaker Jeff Fitzgerald, private businessman and hedge fund manager Eric Hovde, and former US Rep. Mark Neumann.
Of the four, Mr. Thompson has the greatest name recognition: He is a former four-term governor and one-time secretary of Health and Human Services to President George W. Bush. While Wisconsin Gov. Scott Walker (R) and GOP vice presidential pick Rep. Paul Ryan have not explicitly endorsed a candidate, both have had kind words for Thompson in recent weeks. At a rally in Waukesha, Wis., over the weekend, Mr. Ryan publicly cited Thompson's most notable accomplishment as governor – "welfare reform, getting people off of welfare, back to work into lives of dignity, personal responsibility, on to a life of hitting their potential" – and declined to mention any of Thompson's competitors.
---