Tommy Thompson in Wisconsin lifts GOP hopes for US Senate takeover
Before he won Wisconsin's Senate primary Tuesday, Tommy Thompson led Democrat Tammy Baldwin in a hypothetical matchup by 5 points, a poll showed. This marks the former governor's reentry into politics.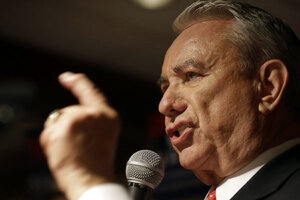 Jeffrey Phelps/AP
Former Wisconsin Gov. Tommy Thompson, winner of Tuesday's GOP Senate primary, will face Democrat Tammy Baldwin, a seven-term US representative, in a Senate race expected to highlight stark ideological and partisan differences, particularly on health care.
Polls show Mr. Thompson starts the head-to-head contest, which will be closely watched outside Wisconsin, with a lead over Congresswoman Baldwin. They are vying for the seat of retiring Sen. Herb Kohl, a Democrat, and a Republican victory in Wisconsin could be catastrophic to Democrats' efforts to retain majority control of the US Senate.
Thompson won Tuesday's four-man primary by a slim margin, taking 34 percent of the vote. Eric Hovde, a local businessman and a tea party favorite, came in second with 31 percent, former US Rep. Mark Neumann got 23 percent, and Wisconsin Assembly Speaker Jeff Fitzgerald had 12 percent.
---