Elizabeth Warren takes slim lead in Massachusetts Senate race
Polls show that Elizabeth Warren has overturned a small deficit and now has a small lead over Sen. Scott Brown. But with both candidates' favorability ratings rising, the race remains tight.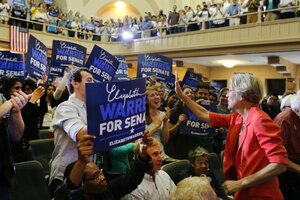 Bizuayehu Tesfaye/AP
Elizabeth Warren appears to have pulled slightly ahead of Republican Sen. Scott Brown in a closely watched US Senate race in Massachusetts.
The battle over the seat once held by Sen. Edward Kennedy (D) remains tight, with the Democratic challenger garnering 48 percent support versus 44 percent for Senator Brown, in a new Suffolk University poll of statewide voters.
That gap is just at the poll's margin of error, of plus or minus 4 percentage points, but it comes after other surveys this month have shown Ms. Warren leading, in one case by 2 percentage points and in another by 6 percentage points.
Brown – whose victory in a 2010 special election stunned Democrats – has the advantage of being an incumbent, but the disadvantage of being a Republican in a strongly Democratic state.
Ms. Warren may have gained some ground from the Democratic National Convention, where voters could see her giving a prominent speech and inhabiting the same televised space as Bill Clinton and President Obama. Brown, meanwhile, may have lost ground not because of personal missteps but because of wider challenges for his party.
In a May Suffolk University poll, for instance, 59 percent of Massachusetts voters said they would vote to reelect Obama, while 39 percent said they would opt for Republican Mitt Romney or were undecided. In the new poll, taken Sept. 13 to 16, Obama's share has risen to 64 percent and Romney's support has shrunk correspondingly.
---