Elizabeth Warren vs. Scott Brown in first debate: what they need to do
Challenger Elizabeth Warren will debate Sen. Scott Brown of Massachusetts Thursday. The race, one of the nation's most closely watched, is seen as a tossup.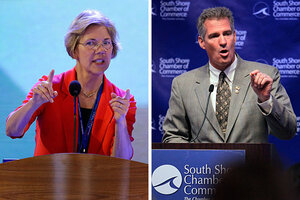 J. Scott Applewhite/AP/FILE and Steven Senne/AP/File
For one hour on Thursday night, Elizabeth Warren and Republican Sen. Scott Brown square off on the same stage in their first televised debate – each with a formidable task to accomplish with Massachusetts voters.
Senator Brown, who is seeking to defend his seat in a heavily Democratic state, needs to be rebut his rival's criticism that on big issues he has sided with conservatives and big corporations, rather than with his constituents.
Ms. Warren, a law professor known for her sharp-tongued populist fusillades, needs to score points with her criticisms without coming off as unappealingly shrill.
Get ready for a lively exchange. Both candidates are considered to have star power, Brown for his strong likeability ratings and Warren for her role as a voice against power brokers including Wall Street bankers. This Senate race is a close one, according to recent polls, and will help determine whether Republicans can wrest control of the Senate from Democrats in November.
Recent statements by the two candidates hint at core messages they'll be trying to convey.
Warren challenges Brown directly in an ad posted on YouTube Sept. 18, but the ad uses gentle background music, and a soft spoken cadence by the candidate to convey that she isn't the wild-eyed liberal ranter that her critics portray.
With wooden kitchen cabinets and a tea kettle visible in the background, Warren says of Brown: "Too often on things that really matter he's not with you." He voted against three Obama jobs bills, she says, and against millionaires "paying the same tax rate as working families."
---