Brown-Warren debate: Jabs span from tax policy to personal character
Locked in a tight race, Sen. Scott Brown (R) of Massachusetts and Democratic rival Elizabeth Warren pulled no punches in their first debate Thursday night. At the end, both were still standing.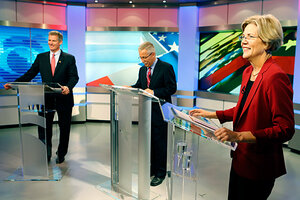 Michael Dwyer/AP
One of the hottest US Senate races in the nation got hotter Thursday night, as Sen. Scott Brown (R) of Massachusetts and Democratic challenger Elizabeth Warren appeared both self-assured and feisty in the first of several televised debates.
Ms. Warren put pressure on Senator Brown to defend his voting record as a Republican serving one of the most Democratic states in the nation. And she sought to put the race in the context of its larger stakes: A vote for Brown could help put other Republicans, with views much more conservative than his, in charge of the US Senate.
Brown cast himself as an independent champion of common-sense, middle-of-the-road positions – and his rival as out of touch with the needs of a still-struggling economy.
"The criticism you're hearing [from Warren is] I don't want to raise taxes – guilty as charged," Brown said at one point.
He also called Warren's personal character into question, using their face-to-face meeting to repeat a concern he has raised before in comments to the press: Did she use an unverified claim to native-American heritage to get a leg up in an academic career that landed her ultimately at Harvard Law School?
---