Could Democrats steal a Senate seat in Arizona?
Former President Bill Clinton is in Arizona Wednesday to campaign for Democratic Senate candidate Richard Carmona, who is staying close to his Republican challenger, Jeff Flake.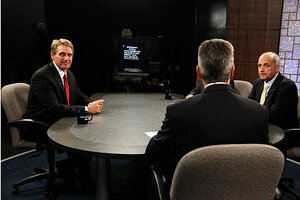 Ross D. Franklin/AP
Republican efforts to take back the Senate – already complicated by the controversial campaign of Todd Akin in Missouri and a tight race in Massachusetts – could face another challenge in one of the most unexpected of places.
In Arizona, Democratic candidate Richard Carmona is polling surprisingly well against his Republican challenger, Rep. Jeff Flake. The RealClearPolitics average of polls puts Congressman Flake up by 2.3 percentage points, 44.3 to 42 percent.
On Wednesday, Mr. Carmona's campaign released a poll that suggested Carmona was actually ahead, 47 to 43 percent. Within hours, the Flake campaign countered with its own poll, suggesting Flake was up 49 to 43 percent.
"All you can say at this moment is that it's a race worth watching," says Larry Sabato, a professor of politics at the University of Virginia.
It remains an uphill battle for the Democrats. Arizona hasn't sent a Democrat to the Senate in nearly 18 years and hasn't voted for a Democratic candidate for president since 1996, when it went for Bill Clinton. Wednesday evening, Mr. Clinton will stump for Carmona at a rally in Tempe, Ariz.
---