Battleground Virginia: Defense cuts loom large in key US Senate race
In their last debate in the Virginia Senate race, George Allen and Tim Kaine clashed over how to avoid some $55 billion in mandated defense cuts set to begin Jan. 1. Allen would take more from social programs; Kaine would raise taxes on the wealthiest Americans.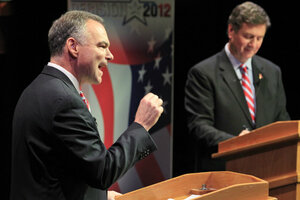 Steve Helber/AP
As Republican George Allen and Democrat Tim Kaine head down the final stretch of their heavyweight brawl to be the next US senator from Virginia, the close race may come down to an issue that has received scant attention at the presidential level: some $55 billion in defense cuts nationwide that will slam Virginia's economy come Jan. 1.
Former Virginia Governors Kaine and Allen had an extended and tense exchange in Blacksburg, Va., Thursday night over how to deal with those cuts, which Congress put in place as part of compromise legislation from the summer of 2011 that raised the federal debt ceiling.
Polls consistently show the candidates within only a few percentage points of each another, as the Senate race here has largely tracked alongside the presidential contest in the commonwealth, one of 2012's most highly sought after electoral prizes.
In the fifth and final meeting between the two men, this "sequester" of military funds was the spoke around which the other arguments revolved. Allen uses it to paint Kaine as weak on defense and to highlight his own support for greater utilization of energy resources to help pick up the tab of government spending.
Kaine uses it to showcase the specificity of his plan to solve the crisis, while criticizing Allen's spending-cuts-only approach as evidence that the Republican lacks, both personally and in policy, the balance to find a solution.
This issue, which bled through questions as far afield as Libya and Medicare, has so far not come up at all during the presidential debates.
---