Tea party's Richard Mourdock trails in Indiana Senate race, poll shows
Once favored to win the US Senate race in Indiana, the GOP's Richard Mourdock now trails by 11 points, a new poll shows. Independents, in particular, have abandoned him since his statement about pregnancy from rape and God's intent.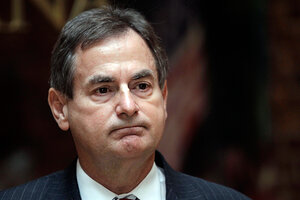 Michael Conroy/AP
(Updated at 3:15 EDT.)
The GOP's Richard Mourdock appears to have done grave damage to his Senate candidacy in Indiana by his comment that "even when life begins in that horrible situation of rape, that is something that God intended to happen."
Almost nine in 10 Hoosiers heard about the statement, according to a poll released Friday by Howey/DePauw, an Indiana group that boasts both a Republican and a Democratic pollster. And since Mr. Mourdock uttered it on Oct. 23, his Democratic opponent has blown open a massive 11-point lead, the poll shows.
When the group last surveyed voters in September, it found Rep. Joe Donnelly (D) with a statistically insignificant lead of two percentage points. (Its October survey contacted 800 likely voters and had a margin of error of 3.5 percent.)
Few ever expected the race for this pivotal Senate seat to be a lock for Mourdock, but the state treasurer had been the favorite to win in the right-leaning state. The only other two polls on the race, by Rasmussen Reports, showed Mourdock with a single-digit lead. The seat is one that the Republican Party had counted on having on the way to a takeover of the US Senate.
Among those who had heard of Mourdock's comments, 40 percent said they were less likely to vote for him, while 54 percent said his words had no impact on their vote.
---