No Ben Affleck? That's OK, Massachusetts Senate race still poised to be big.
If John Kerry's seat needs to be filled next year, it will be the fourth time Massachusetts voters have chosen Senate candidates in a six-year period. Actor-director Ben Affleck said Monday he won't run.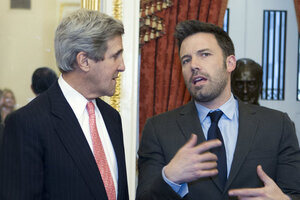 Jose Luis Magana/AP
Massachusetts seems to have a thing about Senate races. The state is holding elections more often than usual for US Senate seats, and in ways that garner the national spotlight.
First, remember what's typical under the US Constitution: Each state has two Senate seats, with each coming up for election every six years, on a staggered schedule.
Then, think about this string of events: Massachusetts residents appear poised to cast ballots for the US Senate four times in a six-year period, or twice the typical pace. John Kerry (D) won a reelection vote in 2008. Then, after the passing of Sen. Edward Kennedy (D), the state held a special election in early 2010 that drew national attention with Scott Brown's surprise Republican victory.
Then came the epic battle, just concluded last month, in which Elizabeth Warren took that seat back for Democrats. Now, a few weeks later, with President Obama nominating Senator Kerry to be his next secretary of State, the stage is set for another high-profile special election in the new year.
Mr. Brown, a winner in 2010 and a loser in 2012, may be back as a Republican candidate in 2013.
---