In Massachusetts Senate debate, time for Gomez to come out swinging
Both Rep. Edward Markey and Gabriel Gomez need to break stereotypes in Wednesday's debate. But with Gomez behind, he has more work to do to win the Massachusetts Senate seat.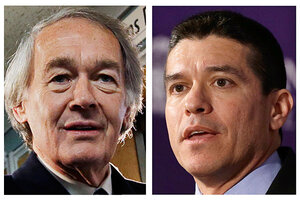 AP/File
As the candidates in the special election to fill John Kerry's Senate seat in Massachusetts go head-to-head in their first televised debate Wednesday night, both will be looking to keep the reputations they've developed in their early weeks on the campaign trail from fossilizing in voters' minds.
For Rep. Edward Markey, a stiff and slightly awkward 18-term congressman, that will mean showing that he's not just a stock character Massachusetts Democrat who expects to sweep to victory on the strength of the party's massive demographic advantage. Instead, he'll try to prove to voters that he wants this seat, and perhaps more importantly, that he's earned it.
On the other hand, for Republican Gabriel Gomez, a charming businessman and former Navy SEAL but political novice, the goal will be to make himself look senatorial: informed, articulate, and confrontation-ready.
And there's an added challenge. The two men will have to do all this on a sunny June evening – hardly prime political season in Massachusetts – with home games by both the Red Sox and the Bruins only a channel flip away.
Indeed, both candidates will spend tonight not only making the case for their candidacies, but for the importance of the election itself, says Spencer Kimball, a campaign consultant who also teaches in the communication studies department at Emerson College in Boston.
"People are confused about what's at issue here, and that works in Markey's favor because you don't have many Democrats looking to jump ship," he says. "But this debate gives Gomez the opportunity to make the case to independent voters that he's a viable candidate, and that if they want to know more, they should keep tuning in."
Hooking in independent voters has been a major strategy so far for Mr. Gomez, who has spent the early days of the race pounding the pavement across the state, racking up scores of visits to diners, factories, and small businesses.
---