In Georgia's Senate race, signs of GOP unease about tea party clout
The GOP establishment in Georgia wants to tamp down tea party fervor ahead of a primary election for an open US Senate seat. Its aim: prevent a primary that yields a candidate who can't win a general election.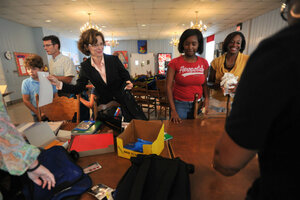 Beau Cabell/The Telegraph/AP
Four years after Atlanta saw some of the earliest and biggest tea party rallies in the country, Georgia's GOP establishment, including Gov. Nathan Deal, are pondering strategies to reduce the right-wing insurgency's influence on next year's primary election for a US Senate seat – and on the larger struggle for power in Washington.
To be sure, Georgia is about as red a state as they come. It has had an all-Republican contingent in the US Senate for years, and the state gave a big thumbs-down to Barack Obama twice.
But the emergence of a big-name Democrat – Michelle Nunn, daughter of longtime and big-time former Sen. Sam Nunn – suddenly has the state GOP on the defensive.
As mainstream GOP leaders see it, the problem is how to keep the state's powerful tea party contingent from dominating the primary nomination process and picking an extreme-right candidate who couldn't win a general election.
Moreover, to win control of the US Senate, Republicans must reel in six seats in 2014, and that means not losing seats presumed to be solidly in their column, as they did in 2012.
The national GOP establishment is still smarting over losses in Missouri and Indiana that not only helped deny Republicans their Senate majority but also put new dents in an already dinged-up GOP brand. Missouri's 2012 Senate GOP primary winner, Todd Akin, set off a furor with his comment that victims of "legitimate rape" seldom get pregnant. In Indiana, tea party favorite Richard Mourdock doubled down on that gaffe by suggesting that a pregnancy resulting from rape was "something that God intended to happen."
---