How is the tea party doing in Senate races?
(Read article summary)
The GOP, fueled by the tea party movement, is all but certain to take control of the House. The Senate is another story, even though tea party-backed candidates are doing well in key races.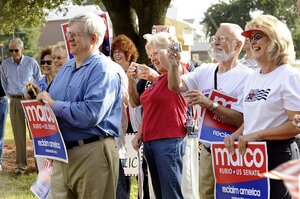 Katie King/The News Journal/AP
If the 2012 elections are all about outsiders pounding on the door of the political establishment – mainly in the form of the tea party insurgency – it's worth taking a look at how their most prominent figures are doing the last few days before we've all voted and can concentrate on the World Series. (You heard it here: Giants in seven.)
The tea-fueled GOP is all but certain to take control of the US House of Representatives. So we'll stick with the Senate, where the D's have more than a fighting chance of hanging on to their majority.
Expert poll watcher Nate Silver, who blogs at FiveThirtyEight.com for The New York Times, says Sharron Angle "has been improving her position in our forecast in recent days, and for the first time since the spring has better than a three-in-four chance to win her race against Harry Reid."
A TIME/CNN/Opinion Research survey this week has Ms. Angle up four points over Senate Majority Leader Reid.
---