Sarah Palin for president? It's possible, she says.
(Read article summary)
Sarah Palin says if nobody else is up to the job, she could run for president. But her political clout is on the line in Alaska with the flagging US Senate campaign of tea party favorite Joe Miller.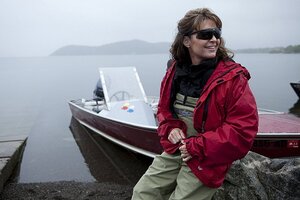 Gilles Mingasson/AP Photo/TLC
Is Sarah Palin just toying with us about running for president in 2012? Or did she really mean it when she told "Entertainment Tonight" she could run.
Interviewed at her home in Wasilla, Alaska, for a segment to be broadcast Thursday evening, Ms. Palin told the show's Mary Hart:
"I think, still, it is too early for anybody to get out there declaring what their intentions are. For me, Mary, it's going to entail a discussion with my family, a real close look at the lay of the land, and to consider whether there are those with that common sense, conservative, pro-Constitution passion – whether there are any candidates out there who can do the job."
But then she added, "If there's nobody else to do it, then of course I would believe that we should do this." (It was unclear whether she was using the collective "we," the editorial "we," or the royal "we.")
No reaction yet from Mitt Romney, Mike Huckabee, Tim Pawlenty, Newt Gingrich, Mitch Daniels, Jim DeMint, Mike Pence, or the other Republicans frequently mentioned in the same sentence as "2012."
---
Follow Stories Like This
Get the Monitor stories you care about delivered to your inbox.