Where does the tea party philosophy come from? One hint is in its name.
(Read article summary)
Historians and political scientists will be examining the tea party movement for years. Some are starting to lay out what they see as the philosophical underpinnings of this unique insurgency.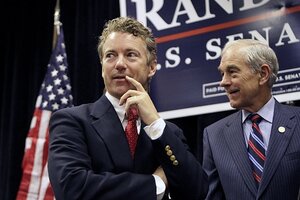 Ed Reinke/AP
It's still unclear what contribution the tea party movement – its grass-roots element, its behind-the-scenes funding apparatus, and the surging national candidates it's brought forward – will make to the good of the republic.
But one thing for sure: It's a dream come true for political science departments around the world. It may well do for poli sci what Watergate heroes Woodward and Bernstein did for journalism. Let a thousand doctoral dissertations bloom!
In a nutshell, the movement's philosophy can be summed up in its name and imagery: "Taxation without representation," which in the 21st century means the size and complexity of government. Strip away all the sillier elements (President Obama's birth certificate) and sometimes threatening fringe (guns and occasional hints of racism) and that's pretty much it.
Does it line up with big business types pushing the same agenda for many years through K Street lobbyists and Chambers of Commerce? (That's you, Koch brothers.) It matters not to most tea partyers.
---