Vote 2010: Why European liberals see the tea party as 'a circus of fools'
(Read article summary)
European commentators have called tea partyers stupid, ignorant, gullible – and worse. Behind the vitriol may lie a worry about its influence on the Continent.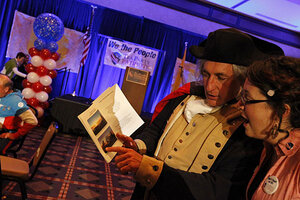 Ann Heisenfelt/AP
You thought a lot of American liberals don't quite cotton to the tea party? You should hear the Europeans.
From Britain to Germany, newspaper editorialists – albeit for mostly liberal and leftist party publications – have in turn called those who sympathize with the small-government, antitax tea party movement that sprung up in early 2009 "ill-educated," "drooling imbeciles," "rednecks," and even a "traveling circus of fools."
To be sure, going into Election Day many Americans also had choice adjectives to describe tea party folks. The allegation that the tea party is a Republican fringe over-fixated on race and the past is at the heart of much of the criticism against the movement in the US.
VIDEO: Voices of the Tea Party
But the fiery European epithets have four very different, and key, causes:
1) Some Brits, holding on to a decades-old characterization of the former colonials as gullible and naive, still view Americans as obtuse and at times irresponsible upstarts on the global stage. The Financial Times' Clive Crook summed the sentiment up in a Monday column about the changing – and, in his view, worrying – dynamics of the American electorate on Election Day. He called the tea party driven by "pure stupid nativism."
---