Rand Paul's big Senate test: Can tea party compromise?
(Read article summary)
Will Rand Paul's promised tea party caucus in the Senate be able to stop government spending or be forced (gasp) to compromise on the shape of 'constitutional government'?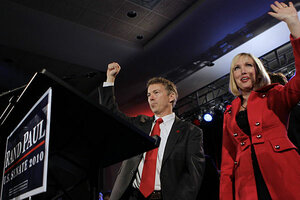 Ed Reinke/AP
Rand Paul's victory in the Kentucky race gives perhaps the tea party's most ardent booster a seat in the Senate. He is joined by Florida's Marco Rubio and a wave of Republicans swept into the House on tea party momentum.
It gives the tea party its first real opportunity to grab the levers of power. It could also jam the congressional works worse than ever.
Mr. Paul, whose at-times controversial comments didn't prevent him from cruising to what looks like a comfortable win over Democrat Jack Conway, vowed in his victory speech to establish a tea party caucus in the Senate (the House already has one) and "send a message" to what he called "the world's most deliberative body."
But converting the tea party's newfound populist power into actual governing will be a tough task, especially in the august, complicated, and sometimes dysfunctional machinery of the US Senate.
How tea partyers such as Mr. Paul, Mr. Rubio, Dan Coats in Indiana, and John Boozman in Arkansas will react when they begin deliberations on cutting deficit spending, for example, is a major question, political scientists say. It will test the breadth of the tea party's message and even its relevance to the 2012 presidential election.
---