Was Election 2010 about the tea party or Nancy Pelosi?
(Read article summary)
With a historic sweep in the House, why couldn't the GOP grab the Senate? Another tea party paradox, perhaps. Or was it the 'Fire Nancy Pelosi' effect?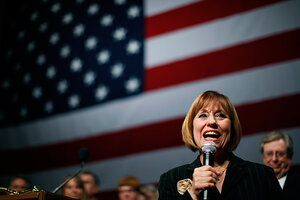 Rick Wilking/Reuters
The idea of putting largely untested outsider candidates up against even embattled incumbents like Senate majority leader Harry Reid backfired on the tea party Tuesday, potentially costing the Republicans control of the Senate.
With tea party champions Christine O'Donnell in Delaware and Sharron Angle in Nevada both losing their races and Ken Buck in a race still too close to call in Colorado, the Senate remained out of Republican control even as the Democrats faced historic economic headwinds and an angry and dissatisfied public.
To be sure, Republican gains in the Senate – even if short of a takeover – were impressive. Republicans look assured of picking up at least six seats – to 47 – and perhaps seven if Mr. Buck can win his race.
But the failure of Ms. O'Donnell and Ms. Angle – in races that, according to polls, mainstream Republican candidates might have won easily – showed Republicans both the benefits and drawbacks of aligning itself closely with the anti-tax, anti-spending tea party movement.
---