Is tea party 'dead' if Newt Gingrich fails in South Carolina?
(Read article summary)
The tea party has been at the forefront of the anyone-but-Mitt Romney campaign but has not yet curbed his momentum. If the movement fails to propel tea-party favorite Newt Gingrich to victory in South Carolina, its clout could come into question.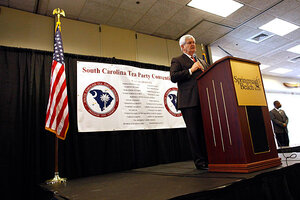 Eric Thayer/REUTERS
Since it was incorporated into the presidential primary calendar in 1980, South Carolina has been an important tool for the Republican establishment.
Coming after nominating contests in Iowa and New Hampshire, the reliably conservative Southern state has served as a check on those states' sometimes-eclectic tendencies, making sure an "establishment" candidate gets a chance to gain momentum. Indeed, since 1980, it has picked every eventual Republican nominee.
This year, however, South Carolina could do the exact opposite, upending the momentum of the "electable" candidate (Mitt Romney) and resuscitating the campaign of a man few in the GOP establishment want (Newt Gingrich). It would be a reversal potentially with significant meaning for the almost-forgotten tea party.
Barely more than a year after it changed the face of Washington in historic midterm elections, the tea party has yet to leave any clear mark on the GOP nominating process. Iowa and New Hampshire have given momentum to Mr. Romney, whose perceived ideological squishiness is anathema to the tea party insurgency. The Jan. 31 primary in Florida could virtually seal his nomination.
---