Who is Glenn Beck? Rally adds to his mystique.
(Read article summary)
A day after the Glenn Beck rally in Washington, the media was stumped by who the real Glenn Beck was and how he had motivated thousands of Americans Saturday.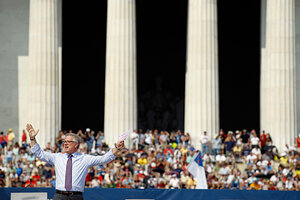 Alex Brandon/AP
This Sunday, apparently, no one knew who Glenn Beck was.
The "Chris Matthews Show" on NBC had a roundtable panel discussion about the man who claimed to be "restoring honor" in America, with panelists delving into Mr. Beck's character as though he were lying on a couch in front of them.
Fox's Chris Wallace, who works in the same office as Beck, marveled that he still doesn't "know" who Beck is.
And ABC's Rick Klein called his power to attract audiences "the most potent political force in American life today" – even though Beck suggested his rally was not about politics.
Why all the confusion?
Granted, Beck casting the event in a religious light caused for some scratching of heads. But whatever the motivation for the rally, the result was hardly unfamiliar to Beck-watchers.
Beck, after all, is no cipher. He is on television no fewer than five times a week, and during those five hours of head shaking and finger-wagging, he is not exactly shy about sharing his opinion.
---