The Blaze: Why did Glenn Beck really want to start a website?
(Read article summary)
The Blaze is a logical next step for Glenn Beck, who has gradually expanded from radio to books and TV. It's also natural for conservatives to want an online counterweight to liberal blogs.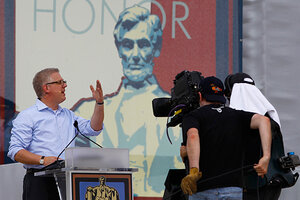 Alex Brandon/AP
What is Glenn Beck up to?
Last weekend, Mr. Beck was the unquestioned king of the airwaves. Love him (as many do) or loathe him (as many do), he held America with rapt attention during his I-swear-it's-not-political "Restoring Honor" rally. He had set the stage for some sort of extraordinary encore.
Days later, he did what almost no one expected and launched The Blaze – a blog that, by the measure of its early content, trends along the same conservative lines that characterize his Fox News show.
Was another opinionated website really what the world – and, perhaps more importantly, Beck – most needed?
Perhaps.
Beck's career has followed a clear arc: He began in radio and has since moved into books and, of course, television. His migration now to the Internet suggests that he is trying to capitalize on the seismic sea change underway in the media.
"The Internet is an interactive medium for news and information, while television and radio, largely are not," says Paul Levinson, author of "New New Media."
Good timing?
---