Stephen Colbert steals Obama's 'mission accomplished' moment on Iraq
(Read article summary)
President Obama celebrated the end of the Iraq war with all the pomp of a pizza delivery boy, Stephen Colbert quipped. So Colbert's trying to do the thing right. Is it a dig at Obama?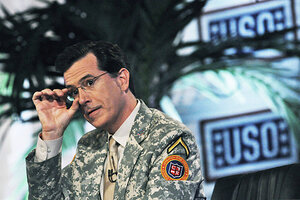 Steve Manuel/USO/AP/file
Comedy Central's Stephen Colbert knows how to milk his moment in the limelight.
While thousands of his fans are clamoring for him to host a parody of the Glenn Beck rally on the steps of the Lincoln Memorial next month, the mock conservative talk show host last night punted, coyly playing with the idea without saying yea or nay. What he did was redirect attention to a special event he already had announced: a celebration of the troops returning from combat duty in Iraq.
So, while the bid to "draft Colbert" for a "Restoring Truthiness" rally continues to grow online, Mr. Colbert can count on his own "Colbert Nation" troops to tune in night after night awaiting his final answer.
It's a sly move that gives even more attention to a two-part show beginning Wednesday night, dubbed, "Been There, Won That: The Returnification of the American-Do Troopscape." The shows will feature an audience of active duty servicemen and women as well as veterans.
---