Sarah Palin and Glenn Beck in Alaska: testing the 2012 waters?
(Read article summary)
Neither Sarah Palin nor Glenn Beck is currently running for anything, but both are deftly navigating today's media landscape and having some success steering the national debate.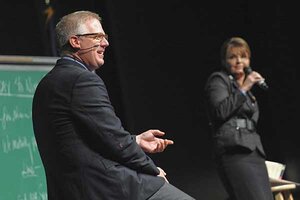 Michael Dinneen/AP
Kingmaker, powerbroker, digital celebrity – by whatever name, and there have been many – Glenn Beck and Sarah Palin herald the dawn of a rising phenomenon. Their ability to use virtually every form of new and old media, from television to Twitter, Facebook, and blogs, to reach large audiences in the service of personal yet political messages is something new on the political landscape, say many political strategists and historians.
This power to persuade by personal conviction without apparent elective ambition was on display yet again Saturday night. In a joint rally in Anchorage, Alaska, the two flirted with one another. Ms. Palin coyly asked, "You gonna run?" and Mr. Beck later said, "We would like to announce that in 2012 we will both be … voting." While they breezed through a menu of top "tea party" issues, from God to the lack of moral leadership from the Obama administration, neither would lay claim to real political aspirations.
Such powerful "candidates without portfolio" are truly a creation of today's hyper-media-saturated communication landscape, says branding expert Mark Stevens. "We've never had people as powerful as Beck and Palin who aren't politicians with complete access to the entire country every day," he says. "Who can we equate them to? Nobody," he says. "It's a unique phenomenon."
---