As Palin and Beck rise on the right, where is the left's answer?
(Read article summary)
Sarah Palin and Glenn Beck's ascent has taken ribbing from Keith Olbermann and the Huffington Post, but the left lacks a mobilizing media mouthpiece of its own.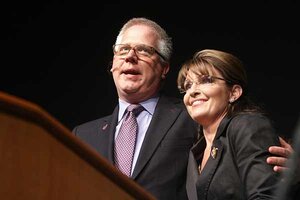 Newscom
As Glenn Beck and Sarah Palin continue to polish their stars on the boulevard of national conservative politics, the question arises: Where are the liberal counterpoints to their red meat, right-wing struts?
Sure, there are the leagues of bloggers such as the Huffington Post and the TV show hosts such as Keith Olbermann and Rachel Maddow, but so far, nary a one of those has led any impassioned rallies on the steps of important national monuments (Glenn Beck's Aug. 28 "Restoring Honor" rally took place on the steps of the Lincoln Memorial).
Ms. Huffington did make a brief dash for political office back in 2003, and Al Franken's short-lived home, the liberal "Air America" radio show, actually greased his 2008 entry to the US Senate, but the fact remains, say political and media observers, that the right is way ahead when it comes to powerful media mouthpieces, and the phenomenon is most acutely embodied in the Beck/Palin power team.
---