Rally to Restore Sanity vs. March to Keep Fear Alive: Which is winning?
(Read article summary)
Jon Stewart's Rally to Restore Sanity faces off, sort of, against Stephen Colbert's March to Keep Fear Alive on Oct. 30. Their websites are tracking how many people say they will attend each.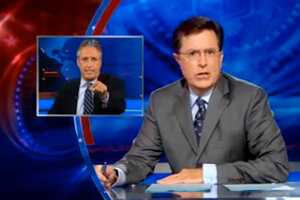 Screencapture via Comedy Central
It's the "Rally to Restore Sanity" versus the "March to Keep Fear Alive," Jon Stewart versus Stephen Colbert, the big competition of the faux political events, set for Oct. 30 on the National Mall in Washington.
In terms of dominating the run-up to the actual smack-down, who's winning so far?
Let's give it up for moderation! But quietly – somebody nearby may be napping. As of midday Monday, 98,756 people had checked the "planning to attend" box on the Rally to Restore Sanity Facebook page. The corresponding number for the March to Keep Fear Alive? Only 38,659.
You've heard about all this, right? Glenn Beck's Aug. 28 "Restoring Honor" rally on the Mall was the inspiration. After Mr. Beck's gathering, someone mused on the Reddit.com site that maybe Stephen Colbert should hold his own public event. The Huffington Post picked it up, a Facebook page sprang from nowhere, and next thing you know, Comedy Central stars Stewart ant Colbert were both announcing that they would announce something important at some point. Then last Thursday, they made the final announcement: dueling rallies on the same day, may the best point of view win.
---