Stephen Colbert on Capitol Hill: Did he endorse Pledge for America?
(Read article summary)
Stephen Colbert testified on Capitol Hill Friday about ... stuff. The mock-conservative pundit even made some Democratic aides wince.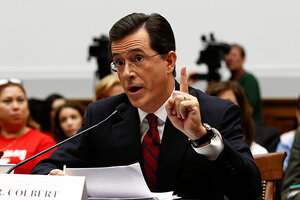 Kevin Lamarque/Reuters
Yes, Stephen Colbert testified Friday before Congress in character as the blowhard pundit from Comedy Central's "The Colbert Report." Not all the members of the House Judiciary subcommittee on immigration were happy he was there. That was clear from their body language. Rep. John Conyers (D) of Michigan, chairman of full Judiciary panel, even made an abortive attempt to keep Mr. Colbert from speaking, asking him to just submit his statement for the record, instead.
But Colbert did speak. And as you might expect, he was something of a loose cannon in a china shop. He'd had been invited by the subcommittee chairman, Rep. Zoe Lofgren (D) of California, to discuss farm labor issues. His expertise? He worked on a farm for a day as part of the United Farm Workers "Take Our Jobs" campaign, which challenges US laborers to replace immigrants in the fields.
Despite being invited by a Democrat, Colbert took jabs at Democrats that, even though they came from a fictional character, caused Democratic aides to wince.
For instance, he noted that only a handful of people had accepted the UFW's "Take Our Jobs" challenge, but "that number may increase in the future, as I understand many Democrats may be looking for work come November."
And the farm work? It is hard. Really, really hard. You have to bend over to pick things a lot.
---