Stephen Colbert on Capitol Hill: Did he help migrant workers?
(Read article summary)
Yes, Stephen Colbert made members of Congress visibly nervous (not good), but he brought cameras and a penchant for one-liners (very good) to help the cause of migrant workers.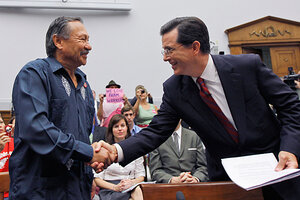 Alex Brandon/AP
Will Stephen Colbert's appearance before Congress make a difference in the contentious US debate about the employment of illegal immigrants in farm work?
Hmm, well, he certainly brought a lot of attention to the issue. As one Democratic member in the hearing room said, "I haven't seen this many TV cameras since [Bill Clinton's] impeachment."
Mr. Colbert himself, in his testimony, said that given his own star power he hoped he could "bump this hearing all the way up to C-SPAN1".
(See, that's funny because the hearing was shown on C-SPAN3, which is reserved for lower-wattage appearances, usually. At least it's funny to people in Washington, who watch a lot of C-SPAN.)
But what's the outcome here? We'll examine both sides of the issue.
Why it won't matter. Colbert's appearance might have been too funny. Or rather, it was funny in a way that made many of the members of Congress in the room visibly uncomfortable. Remaining fully in character, the mock-conservative Colbert took shots at Democrats and their poor prospects in the upcoming elections, the predilection of congressmen to not read bills, and even partisanship itself.
"I feel that after my testimony both sides will work for the benefit of America, as you always do," he said slyly.
That might have hit too close to home for some lawmakers, making them less likely to hear any serious underlying message. Perhaps they had not heard of Colbert's 2006 appearance before the White House Correspondent Association's annual dinner, in which he speared both then-President Bush and the media itself and got little applause from the assembled scribes in return. (The public loved it – ratings soared that week. But that's another story.)
---