Did Stephen Colbert and Joaquin Phoenix take satire too far?
(Read article summary)
Both Joaquin Phoenix and Stephen Colbert have taken recent criticism for giving performances that masqueraded as serious but were really charades.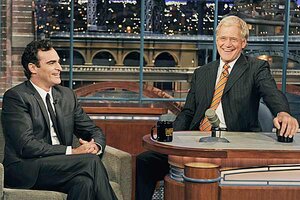 Jeffrey R. Staab/CBS/AP
So, if you crack a joke and nobody laughs, is it funny? That is a question making the rounds of the punditsphere this week after the curious political/pop culture one-two at the end of last week.
On Friday, there was Comedy Central's Stephen Colbert testifying before a congressional hearing on immigration and farm workers' rights – fully in character as a mock-conservative talk show host. Some representatives smiled gamely as he made mock racist comments and rapped politicians in general, while others – notably Republicans – called him "inappropriate."
On Wednesday, actor Joaquin Phoenix told late-night talk show host David Letterman that Mr. Letterman had been an unsuspecting player in the actor's new movie, "I'm Still Here." In 2009, a bearded and disheveled Mr. Phoenix went on Letterman's show to announce his retirement from acting. But that announcement, it turned out, was a hoax made for the actor's new faux documentary.
Letterman, with a vigor that appeared only half-joking, demanded that Phoenix tell the audience he had been duped and was not part of the hoax.
Looming just around the corner are two full-scale mock rallies in Washington, D.C. – initiated by Comedy Central's Jon Stewart in tandem with Mr. Colbert. The event has more than a few politicians as well as fans scratching their heads about whether to laugh, jump a plane to the Woodstock for this generation (sans drugs and nudity, according to Stewart) – or demand the National Park Service refuse the pair a permit to meet on the National Mall.
---