Project Vote Smart unveils tool for the confused Election 2010 voter
(Read article summary)
Project Vote Smart's VoteEasy website compares your answers on 12 basic Election 2010 questions with answers from congressional candidates in your district. But it's not flawless.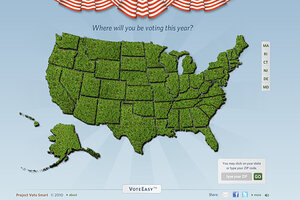 http://www.votesmart.org/voteeasy/
If this is the information age, why is it so hard to get basic answers about candidates running in Election 2010?
"Do you support United States military action in Afghanistan?"
"Do you support elimination of the federal estate tax?"
Fairly basic questions often left unanswered. But help is coming this week in the form of Project Vote Smart's VoteEasy website.
The goal is to "keep it simple, dummy," so the organizers have focused the site on congressional candidates' answers to the Vote Smart questionnaire, which asks basic questions, such as the ones above.
That allows the site to toss some interesting crumbs of information to the voter.
First, when you answer the same questionnaire put to the candidates themselves, the responses most like yours align themselves in real time with cool, little "yard sign" icons moving back and forth.
In other words, you can see which candidate thinks most like you in a glance. Then, presumably, being the conscientious citizen you are, once you narrow the field from say, 10 to two or three, you can click on through into the more sober research the site provides.
Project Vote Smart has been around since 1992 and has all kinds of bipartisan muscle behind it. Both former Democratic presidential candidate Michael Dukakis and possible 2012 Republican presidential aspirant Newt Gingrich sit on the board of the privately funded nonprofit.
---