'Sarah Palin's Alaska' may be 'flippin' fun,' but will it be any good?
(Read article summary)
The trailer for TLC's upcoming show, 'Sarah Palin's Alaska,' is out, featuring themes of family, fun, and freedom. It functions well as a political ad, too.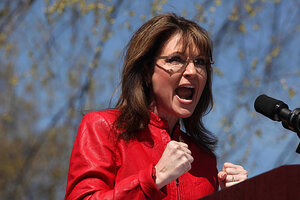 Newscom/File
The trailer for TLC's "Sarah Palin's Alaska" is out, and it looks like a show that will fit in great with many of the other productions of Discovery Channel affiliates. It features the outdoors, bad weather, scary animals, and lots of roaring machines. Think of it as "Deadliest Catch" with a little politics thrown in, or maybe "Man vs. Wild" plus antigovernment rhetoric.
Fortunately there is no dancing. Daughter Bristol Palin is currently on "Dancing with the Stars," and Mama Grizzly Palin has supported her and all, but American politics has not yet progressed to the point where the ability to tango is considered an asset for potential presidential candidates.
Let's run through the clip, shall we? It starts with Palin herself hauling a pack up a snow slope somewhere up there in the big empty, exclaiming "Oh Gosh! We are somewhere people dream about!"
Then the word "Family" pops on the screen, and there are quick cuts of what is presumably the Palin family home, which looks big. Is it expensive to heat cathedral ceilings up there in Wasilla? Maybe that's why she's got another book coming out.
---