Colbert-Stewart rally: Bigger than a tea party?
(Read article summary)
People who can't make it to Washington for the Jon Stewart-Stephen Colbert 'Rally to Restore Sanity and/or Fear' Oct. 30 are holding 'meet-ups.' By one measure, the rally might spawn more local events than the tea party movement has.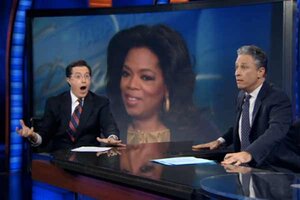 Comedy Central/screengrab
As the clock counts down to the Oct. 30 "Rally to Restore Sanity and/or Fear" in Washington, the number of sister events in support of the Jon Stewart/Stephen Colbert extravaganza is exploding.
You can actually go to the event's websites and watch the number speed upwards in real time. As of this writing, the tally of "meet-ups" – which includes everything from a few buddies at a sports bar to the grand second- and third-city events planned for Chicago and Los Angeles, complete with pricey jumbotron screens and city permits – is 801 cities in 67 countries.
"This is growing faster than any online meet-up we've seen," says Andres Glusman, vice president of strategy and community for Meetup.com, the firm behind the little widget on the events' sites. He spoke from a Manhattan street corner where he had just emerged from a meeting with the Colbert Report team.
---