Obama targets women voters in Seattle trip with talk of jobs, cupcakes
(Read article summary)
President Obama tried to energize women voters at a town hall meeting Thursday in Seattle. He's also set to campaign for Washington's Patty Murray and California's Barbara Boxer.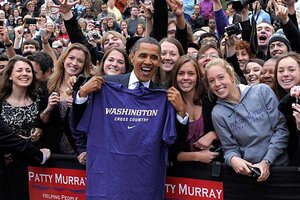 Susan Walsh/AP
As President Obama swings through the western US for an intense few days of campaigning, he appears to be targeting at least one particular group of voters: women.
Thus on Thursday he held a town hall meeting on women and the economy in the Foss family backyard in Seattle. He's also holding a big rally for Washington's Sen. Patty Murray (D), before he swings down to California to try to bolster Sen. Barbara Boxer (D) of California, who is running neck-and-neck with GOP challenger Carly Fiorina.
The emphasis on female voters can be seen in the report released Thursday by the White House Domestic Policy Council, titled "Jobs and Economic Security for America's Women."
It notes that women are now over 50 percent of US college graduates, and close to a majority of the US work force. At his Seattle town hall, Obama made the argument that as women go, so goes the nation, jobwise.
"How well women do ... will help determine how well our families are doing as a whole," said Obama.
The White House gathered a group of female business owners for the Seattle meeting to try and help Obama argue that his policies have benefited women. They included the owner of a metal products manufacturing firm, and the owner of a specialty cupcake bakery.
---