'Baracka Flacka Flames': Does foul-mouthed spoof help or hurt Obama?
(Read article summary)
The 'Head of the State' video that portrays President Obama as a swearing, drinking, racial epithet-hurling 'Baracka Flacka Flames' is driving debate on satire and the mood of youth voters.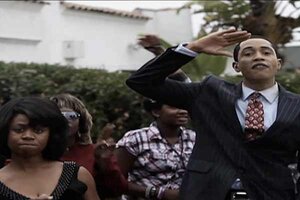 YouTube
As President Obama makes a last-minute push for the youth vote before the election, one of the splash hits in the viral video world is all about him. A hip-hop parody video called "Head of the State" has racked more than a million views since Thursday.
But many polls show that the hope and optimism of the critical 2008 youth voting bloc has morphed into apathy and disappointment in 2010. It's not yet clear whether this 3-1/2 minute online video is an antidote or an anti-valentine.
Over an insistent hip-hop beat, an Obama look-alike grooves through a tough neighborhood spilling expletives, racial epithets, and vulgarity about everything from his wife Michelle to one of his biggest fans, Oprah Winfrey. The video is a slick, professional job, created as a mock version of a video from Atlanta-based hip hop performer "Wacka Flocka Flames."
ONE MINUTE DEBATE: Should America's illegal immigrants be offered legal status?
In an interview in the New York Times Tuesday, the stand-up comic who portrays the President as "Baracka Flacka," an off-hours crude-mouthed gangster, says he hopes the portrayal will help loosen up the image of a president often rapped for his stiff persona.
Not everyone agrees. "It's hard to see this as supportive of Obama," says Brendan Kownacki, a Washington-based digital strategist. He suggests that the video reveals rather a frustration and anger beneath the surface about promises that have not been fulfilled by the Obama administration.
Indeed, even the rapper whose song is being re-imagined has distanced himself from the Obama parody, his management reportedly requesting "Head of the State" be removed from the popular video site worldstarhiphop.com, suggesting it was not the presidential image it wished to support.
---