Rally to Restore Sanity: National Mall filled for the Stewart-Colbert event
(Read article summary)
From around the country, tens of thousand gathered for the Rally to Restore Sanity and/or Fear organized by comedians Jon Stewart and Stephen Colbert. Will it make any difference once the harsh midterm elections are over?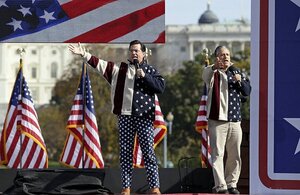 Carolyn Kaster/AP
They came from far and near, some wielding signs and hoping to attract a little attention, others just to watch the show.
But what seemed to unite the tens of thousands who converged on the National Mall on a sunny Saturday in Washington for Jon Stewart and Stephen Colbert's Rally to Restore Sanity and/or Fear was a genuine desire to push back against the strong rightward tilt of the 2010 midterm campaign.
"I don't know why people are so standoffish about saying what they are. I'm a Democrat!" said Judy Greenstein, a retired English professor from Ft. Lauderdale, Fla.
"I feel so strongly against what Glenn Beck stands for – whatever that is," she added, referring to the conservative Fox News showman who held his own mega-rally here two months ago called Restoring Honor. "I hope this will make a difference."
---
Follow Stories Like This
Get the Monitor stories you care about delivered to your inbox.