Jon Stewart rally attendance: Really bigger than Glenn Beck's?
(Read article summary)
Some estimate the crowd that showed up for Jon Stewart and Stephen Colbert's Rally to Restore Sanity and/or Fear topped 200,000, but accurate crowd counting is tough to pin down.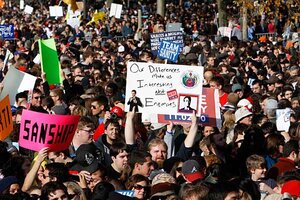 Jacquelyn Martin/AP
The Jon Stewart Rally to Restore Sanity was big by almost any measure. So big that some experts calculate it drew a bigger crowd than did Glenn Beck's Restoring Honor rally in August. Is that true? How accurate are these attendance estimates, anyway?
The answer to the first question is yes, there are some indications that comedian Mr. Stewart drew more people to the National Mall than did talk-show host Beck. For instance, Washington's Metro moved a record 825,437 people on Saturday, compared with an average Saturday ridership of about 350,000. That's more than they moved on the day of Mr. Beck's rally.
But such indications are just indirect evidence. And the answer to the second question above is that the science of crowd size estimation is far from exact, as we noted after Beck's event.
Some "estimates" of Mall crowds may be just stone cold guesses. A number of media organizations, for instance, cited unnamed National Park Service officials who estimated the crowd at more than 200,000. That's interesting – but the National Park Service does not do official estimates anymore, due to the controversy that always follows. We have no idea how this unnamed official came up with the 200,000 number. Were they flying overhead in a helicopter? Standing next to the podium, looking at the audience and guesstimating?
---