Obama as American Idol: president to be guest on Ryan Seacrest radio show
(Read article summary)
In a final bid to bring young voters to the polls, President Obama will join Ryan Seacrest's radio talk show on Election Day.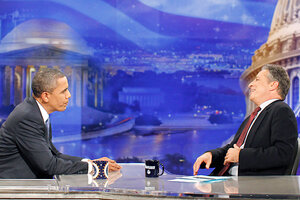 Charles Dharapak/AP
Let's just say it's official: President Obama will do whatever it takes to reach that younger demographic that was so important to his 2008 election.
On Monday, American idol and radio talk show host Ryan Seacrest announced that the commander-in-chief will appear live on his syndicated, daily radio talk show. It will air at 7:15 a.m. Pacific time – drive time – on Election Day.
Mr. Seacrest tweeted to his fans to submit questions for the interview. The questions are currently piling up on the Facebook site and run the gamut from serious ones about the military policy of "don't ask, don't tell" to queries about Mr. Obama's favorite songs and other essential POTUS trivia. (That would be President Of The United States, for the uninitiated.)
This fits in with a trend that began with Bill Clinton, says Travis Ridout, a political scientist at Washington State University in Pullman. "He's clearly trying to bypass the filter of the traditional media to get his message directly to that younger demographic," he says.
---