ABC drops Breitbart from Election Night team after coverage confusion
(Read article summary)
Conservative commentator Andrew Breitbart was dropped from ABC News online coverage of Election Night after he made it seem like he'd be appearing on the company's TV network.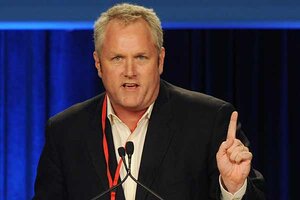 Newscom
The decision Tuesday by ABC News to drop conservative blogger Andrew Breitbart from its election coverage underscores two facts.
First, as media outlets offer election results on an increasing number of platforms, the possibility increases that viewers will confuse participation on one platform with a role on a different platform run by the same company.
Second, it is always trouble for a media company when how it is covering the news becomes the story.
On Tuesday, Mr. Breitbart told Politico that the ABC News decision to drop him from its election coverage was the result of "left wing pressure." He specifically cited the role of Media Matters, a self-styled progressive group that monitors conservative media. "This is about cowardice and caving into what was an overwhelming onslaught by Media Matters, The Huffington Post, TalkingPointsMemo and Daily Kos," Breitbart told Politico.
---