Obama, GOP leaders face the press for election post-mortems
(Read article summary)
In back-to-back press conferences Wednesday, President Obama and victorious Republicans try to win the spin battle on the day after Election 2010. Obama has the harder task.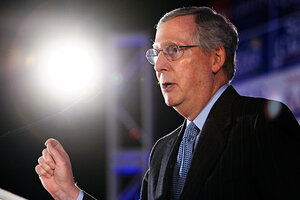 Cliff Owen/AP
In dueling press conferences in Washington Wednesday, Democrats and Republicans will try to win the spin battle on the day after Election 2010.
First off will be Republican leaders on Capitol Hill. Senate minority leader Mitch McConnell, presumptive House Speaker-to-be John Boehner, and Republican Governors Association Chairman Haley Barbour, who meet the press at 11:30 a.m., are slated to "discuss Republicans' agenda for creating jobs, cutting spending, and reforming Congress," according to a statement from their spokespeople.
At 1 p.m., President Obama will take the podium in the White House East Room. In a note sent to reporters Tuesday morning, the White House said only that the president "will convene a news conference." It will be the first televised appearance by Mr. Obama or his top advisers since election results became clear Tuesday evening.
On election night, Politico.com posted a story headlined "At the WH, spin doctors hide," which noted that "Press secretary Robert Gibbs and senior advisers Valerie Jarrett, Melody Barnes, and David Axelrod were all absent from network television" on Tuesday evening.
---