Will Republicans now impeach Obama? (Is that a serious question?)
(Read article summary)
Emboldened by their massive success in the House Tuesday, Republicans are crowing about repealing 'Obamacare.' Democrats fear the GOP will now try to impeach Obama. Take all this with a grain of salt, one expert says.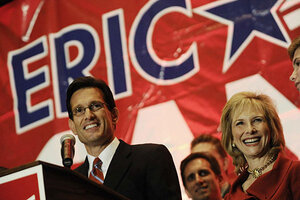 Peter Cihelka/The Free Lance-Star/AP
Impeach President Obama! Repeal "Obamacare!" UFOs have landed!
OK, that last one is made up (pretty sure…), but the first two are rattling around the rhetoricsphere of election night speechifying, even showing up on news shows and media blogs that cover the conversation on an election night.
The first one took flight through the blogosphere after MSNBC's Ed Schultz posed the hypothetical question to the soon-to-be House Speaker John Boehner (R) of Ohio – who, incidentally, was not on the show. Would he pledge to take impeachment of President Obama "off the table," Mr. Schultz asked rhetorically. This was picked up and replayed by the conservative blog, mediate.com.
On the second question, CBS News' "Campaign 2010: Election Night," Katie Couric interviewed Republican Rep. Eric Cantor of Virginia, who told her: "In January, I hope that we're able to put a repeal bill on the floor right away."
---