Did Jon Stewart hurt the Democrats in Election 2010?
(Read article summary)
Comedians like Jon Stewart took aim at candidates like Christine O'Donnell in Election 2010, and sharp political satire may have led to cynicism, suppressing the youth vote, experts say.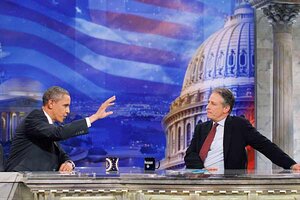 Charles Dharapak/AP
Tuesday's election returns are already fodder for late-night comedy laugh lines, with everyone from Jimmy Kimmel to Stephen Colbert sending up the winners and tweaking the losers ("Republicans won in a mudslide," quipped Jay Leno).
But in the run-up to the election, comedy itself was no laughing matter. More than a few pundits have pointed out that the world of political satire and punchlines has become a contact player on the field of electoral politics. This is particularly potent with the under-30 crowd which, more than any other demographic, turns to jokesters for news and political information. (One placard at the Jon Stewart/Stephen Colbert rally read, "My comedy channel: Fox. My news channel: Comedy Central.") It was, after all, only last year, that "Daily Show" host Jon Stewart was dubbed the most trusted man in America in an online poll.
So, the question arises – what kind of impact did the funny folk have on this election cycle – one in which the numbers of young people voting dropped from 22 million in 2008 to 9 million? The institutions that this generation relies on for information have shifted significantly says Peter Levine, director of Tufts University's Center for Information and Research on Civic Learning and Engagement, who tracks these numbers. Since comedy is a tool for amplifying the weaknesses or strengths of a political candidate, "it is having an impact," he says.
---