MSNBC's Keith Olbermann suspended: two big rules of journalism he broke
(Read article summary)
MSNBC host Keith Olbermann contributed to three Democratic candidates during the 2010 elections.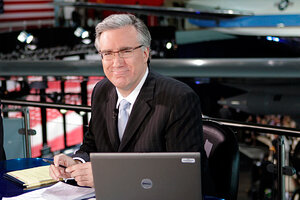 Mark J. Terrill/AP/File
MSNBC host Keith Olbermann was suspended without pay for violating two cardinal rules of journalism by contributing to three Democratic candidates during the 2010 elections.
The first rule Mr. Olbermann broke is one that NBC News has in common with most serious news organizations: namely, that those covering politics cannot contribute to campaigns without prior approval from the news organization's boss – effectively a ban on what is seen as a conflict of interest. Olbermann coanchored MSNBC's election coverage on Tuesday.
As first reported by Politico, and confirmed by Olbermann, he made $2,400 contributions to the reelection campaigns of Democratic Reps. Raúl Grijalva and Gabrielle Giffords, both of Arizona. He also contributed $2,400 to Kentucky Democratic senatorial candidate Jack Conway. Mr. Grijalva won, Mr. Conway lost, and Ms. Giffords is ahead in her race but with results still too close to call, according to the Associated Press.
The second rule Olbermann violated was to never surprise your boss with bad news. MSNBC president Phil Griffin's terse statement Friday afternoon tells the story. "I became aware of Keith's political contributions last night. Mindful of NBC News policy and standards, I have suspended him indefinitely without pay." In essence, Mr. Griffin heard about Olbermann's contributions as Politico was about to break the story.
---