Republican establishment takes on Sarah Palin
(Read article summary)
Senior officials from former president Bush on down say she's not ready for the presidency, and some are questioning her recent decisions and pronouncements.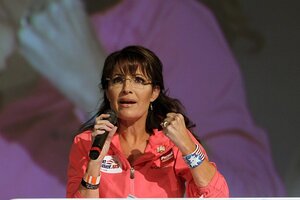 Newscom
Sarah Palin may have notched some political victories this past week, including a pretty good win-loss record among candidates she endorsed. But she's also under fire for some of her recent decisions and pronouncements – in this case not from liberals, but from senior voices in her own party.
Starting from the top, GOP critics of Palin reportedly include former president George W. Bush.
"The 43rd President has told friends the ex-Alaska governor isn't qualified to be President and criticizes Arizona Sen. John McCain for putting Palin on the 2008 GOP ticket and handing her a national platform," New York Daily New Washington bureau chief Thomas DeFrank reported Friday.
"He thinks McCain ran a lousy campaign with an unqualified running mate and destroyed any chance of winning by picking Palin," a Republican official "familiar with Bush's thinking" told DeFrank.
Karl Rove, Bush's political mastermind, had already questioned whether Palin had the "gravitas" to be president – or even the fortitude to withstand the rigors of a long, bruising campaign.
In recent days, two former Republican speechwriters have weighed in unfavorably on Palin as well.
---