Debate on politics and news doesn't end with Olbermann's suspension
(Read article summary)
MSNBC host Keith Olbermann will be back on the air Tuesday, but the distinctions between news and political organizations continue to blur.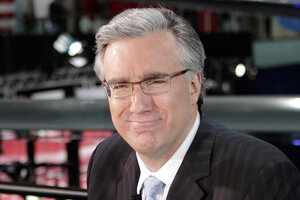 Mark J. Terrill/AP Photo/File
MSNBC host Keith Olbermann will be back on the air Tuesday, after a two program suspension for contributing to Democratic candidates during the 2010 election in violation of NBC News policy.
But the debate over what standards should apply to cable personalities who cover politics is likely to continue as the distinction between news and political organizations continues to blur.
"Neither Fox nor MSNBC is really a news organization, at least not in the traditional sense," American Journalism Review editor Rem Rieder wrote Friday on his blog. "They preach to the converted, they fire up the base."
As Mr. Rieder noted, "The situation is dicier in MSNBC's case because of its relationship with NBC News, which remains in the news business."
MSNBC President Phil Griffin released a statement Sunday saying "after several days of deliberation and discussion, I have determined that suspending Keith through and including Monday night's program is an appropriate punishment for his violation of our policy."
The suspension, which took effect Friday, triggered a sizable protest from Mr. Olbermann's audience, MSNBC's largest. An online petition calling for his return, organized by the Progressive Change Campaign Committee, had gathered more than 300,000 signatures by Sunday, the Associated Press reported.
---