Keith Olbermann last show: Has MSNBC killed its golden goose?
(Read article summary)
Keith Olbermann, last show on Friday, leaves MSNBC after eight years. His sudden exit, midway through his contract, has some saying he's been fired and others pointing to new owner Comcast.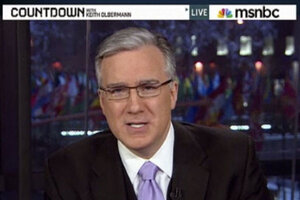 MSNBC
Why would a cable network ditch the host of its most popular show?
"Countdown" host Keith Olbermann's on-air announcement Friday that the show was his last has triggered a barrage of speculation – among fans and critics alike – about what led MSNBC to do it.
Neither Mr. Olbermann nor MSNBC, which had built its left-leaning lineup around "Countdown," gave a reason. The network said only "MSNBC and Keith Olbermann have ended their contract" and thanked him for "his integral role in MSNBC's success."
That would indicate the departure was mutual. But the timing may have come as a surprise to Olbermann, who indicated Friday he had "been told" that the show would be his last. Olbermann was about halfway through a four-year, $30 million contract.
RELATED: Five ousted media personalities in hot water
It had been clear for some time that relations were strained between Olbermann, champion of the left and skewerer of the right, and the network. He never publicly apologized to his employer after violating an NBC News ethics policy requiring advance disclosure of any campaign contributions – though he did apologize to viewers. MSNBC suspended him without pay for two programs right after the midterm elections in November.
---