State of the Union address: Do Americans even watch it?
(Read article summary)
The State of the Union was once delivered only to Congress, then to conscientious US citizens via TV and radio. Now it is fragmented, repackaged, and delivered to an incalculable global audience.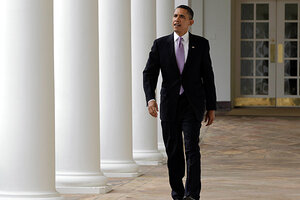 J. Scott Applewhite/AP
Officially, the annual State of the Union speech is for the president to address members of Congress, the representatives of the people.

Of course, radio and TV has allowed the president to take his message directly into American homes for the better part of the past century. Now, in today's restless, hypermedia age – in which the Internet and mobile devices enable viewers to snack their way through the news – his audience has gone virally global, increasing the strategic burden on the president but also expanding his opportunity to communicate with a vast and diverse "constituency."
So who actually tunes into this annual political rite?
How much do you know about the State of the Union speeches? A quiz.
Usually, about 45 million to 50 million people watch it the traditional way: on TV. That number can vary, though, from year to year, according to Nielsen ratings. Bill Clinton set a recent high-water mark of nearly 67 million households in 1993, but he also defined the lowest ebb in 2000 with less than half that.
Sure to be among them are the "political junkies," says Binghamton University political scientist John McNulty. These include the slew of policy wonks hovering blocks from Capitol Hill, as well as foreign leaders in virtually every country on the planet scouring for hints about new policy directions.
---