He went where? Keith Olbermann's move to Current TV makes sense, for now.
(Read article summary)
Keith Olbermann's move from MSNBC to Current TV, co-founded by Al Gore, makes sense for both parties in the short term. It gives the tiny channel a boost and Olbermann a temporary home.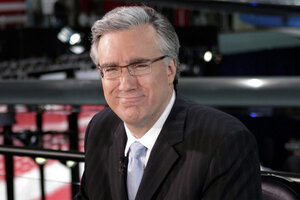 Mark J. Terrill/AP/File
Former MSNBC commentator Keith Olbermann has surprised many with the announcement of his new perch – Current TV.
Much like the general response to other media celebrity home-base moves – think Conan O'Brien's hop from NBC to TBS and Dan Rather's exit from CBS to HDNet – two common queries have been: "Where, exactly, is that?" and "Why?"
The channel, co-founded in 2005 by former presidential candidate Al Gore, is currently seen on a mix of outlets from Comcast to the Dish Satellite Network and officially airs in some 75 million homes around the globe. But actual viewership – as only very recently measured by Nielsen – is a tiny fraction of that, reportedly as low as 25,000.
---